The MiMer Global Village – introducing Marta Sikorska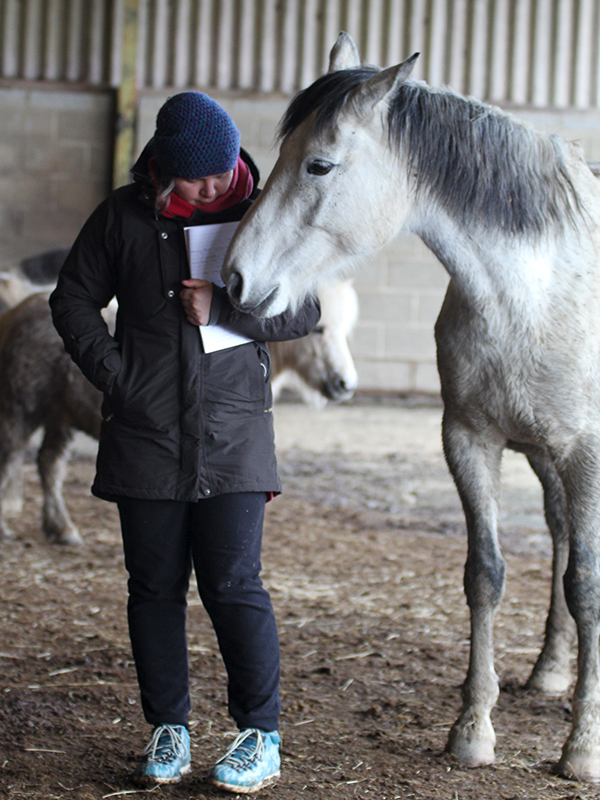 Marta contacted me in the fall of 2019, wanting to sign up to the first level of our Equines in Therapy and Learning program training (EiT/L) that we were going to run in January 2020 in UK. (Which turned out to be the last of our international trainings before Covid hit us – and I am so glad we got to run it – otherwise I would not have met Marta, at least not with this brilliant timing!)
Marta offers facilitation and mediation service with horses, in person, to her community in Poland, and to an ever-growing international audience online. Everything Marta offers is based on a non-violence philosophy. She works in a very inclusive way, always considering everyone's welfare and everyone's perspectives, also the horses', of course!
As a long time equine assisted growth facilitator (she started this journey in 2008), running an NGO in Poland, she knows what she wants and needs, for herself to grow and for her business to grow and flourish. And she is certainly not short or resources, or great ideas.
She reached out and asked me for a reduced fee, to be able to take the training. Which I gave her, doing my best to support the spreading of the work we do, to all corners of the world. We usually give NGOs, charities, students, and others who have the drive to contact us and ask and are willing to put in their share of money, time, energy, and commitment. Marta turned out to be a VERY committed participant (I later found out she had put up a Go-Fund-Me page to raise the money she needed for her course fee, travels, and accommodations). I am so happy she made it, came, and took part in our training!
Today Marta is an important part of our closest MiMer global village members, collaborators, and supporters. She is a substitute member of our Board of Directors and she is an integral part in many of the projects we currently are developing and setting in motion. She is the initiator and a strong driving force, as well as a partner with her own NGO, Pasikonie, in our growing Baltic Sea Region project, where we are looking at building networks and establishing science-based trainings in EAT/L and a raised standard in equine welfare, in the region, as well as best practices and professional exchange. She is also together with me developing our Masterclass for practitioners in the EAT/L field – where we build a community based on peer learning, support, and supervision.
Personally, I very much like to surround myself with people who are wiser and smarter than I am in the areas I am lacking competencies in or am still growing my understanding of. Marta inspires me greatly with her non-violence philosophy, her long experience of working with both children and adults in EAL, and her skills as a facilitator of growth and learning, as well as her eagerness in constantly developing her concept of equine welfare, where she dares to challenge a lot of the ideas of what welfare for horses really is and is about.
Read more about Marta Sikorska and her work in MiMer!
Katarina, CoB and CEO in MiMer
Pictures taken (by me) at the EIT/L training where I first met Marta, at Athena Herd in Paddock Wood, Kent, UK.
Comments
No comments made yet. Be the first to submit a comment
By accepting you will be accessing a service provided by a third-party external to https://www.mimercentre.org/