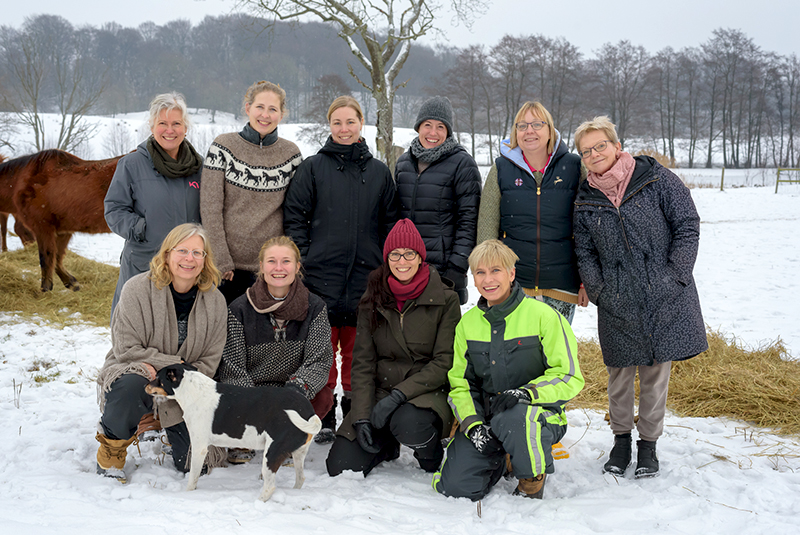 Our Education, Equines in Therapy and Learning Programs (EIT/L), has for a couple of years consisted of 4 separate levels, building on each other, from Level 1 – The Fundamentals, to Level 2 – Theory, to Level 3 – Practice, to Level 4 – our Train the Trainer module.
They were all in person courses. When Covid struck (and stuck), we had to rethink, and we made the theory part of each component accessible online, in closed courses (with set dates). We debated if we also could, and wanted to, make the practical part accessible online, as that would mean we would not meet all our participants in person. We have decided we win more on putting the full courses online than we (and you lose out on). So, we started the work on making the full courses, all levels, 1-4 accessible online. That has taken some time, as reworking the existing online versions is a massive task, as well as how to integrate the practical work, so it gets as close as it can to actually coming to the live practical course parts of each level.
Doing this work, with the feedback from students who have taken all our four levels (in hybrid solutions, where some levels could be offered in person, but others were a mix, and some fully online), we can also see that the participants really benefit from slowly progressing trough the material. In each feedback form we have gotten through the years, we have heard how much material we put into our courses (knowledge, science, new thoughts, theories, practice aspects, questions…), how intense they are, how there is so much to take in, practice on, digest, try out applying, think some more on and have feedback on etc - that we have understood that spreading it out would be highly beneficial to our course participants. And that we have more than enough of material to share (which we do because we think all of it is important, sharing many perspectives on what we know and do not know as a field) and that making it bespoke to each participant and their context is equally important as the actual content. We don't deal with mass education but think all our participants who takes our courses seriously, really require of us to do our utmost best to support them on their path of becoming the practitioner they want to and can be.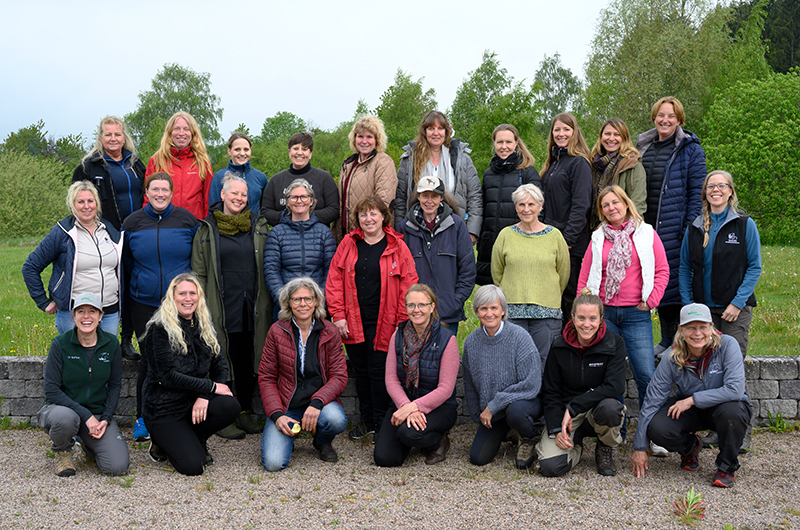 So now, with the online version we can give people more time. The EiT/L Level 1 you would optimally go through in between 10-12 weeks. If you can do it full time, you could do it in 5 weeks, if you have a lot of other obligations, you can take up to a full year to complete it. The pace is now fully in your control.
A One-Year Extensive Education and Accreditation
Meaning, you can move through level 1, 2, 3 and 4 in one year (what we think is an ideal time, making plenty of space for reflections, practice, application of new ideas, tending to your business, your team (horses and humans), your own growth, and eventually (and perhaps, after consideration, and a bit later on) make yourself ready to also teach others about this. If you chose that, we send you a MiMer logo with the text "Accredited MiMer Trainer". You can of course choose to become an educator/trainer that follows our courses or put together your own. And perhaps you want to teach about equine welfare, but not the rest? This is all really up to you. If you go trough all levels, you get the accredited trainer logo. You will also get a Certificate of Completion after each level, and you can of course still choose yourself how many levels you want to take. Signing up to Level 1 comes with no obligations to continue to Level 2, etc.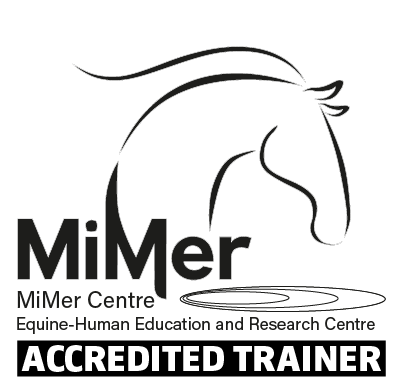 During 2022 you can take all levels at a reduced price, in order, as no matter how many times we go through the material, we will not find all inconsistencies. And we need to try it out in the real situation. So, while you get a price reduction of 200 Euros on each level during 2022, we will ask you for your very sincere and honest feedback, during this year, extensively so. And from the feedback, we will implement updates, improvements, clarifications, more examples, whatever we find makes sense from your feedback.
For each Level you will still be able to see us and practice in person with us if that is your choice. For that to happen, we need at least 10 people who are willing to come to the same location to do a 2-day training to cover the practical parts of the course (applies to all levels).
The practice part would not be included in the price for the full course. For Level 1 you can choose to come to one of your "Learning Wild" courses, where you will have a lot of opportunity to practice the skill of observing, to fulfill the requirements of the practical part of Level 1. Just contact us for info if this is how you want to set up your education. For the practical part for Level 2 you can take part in our Trauma Sensitive Equine Assisted Mindfulness (TS-EAM) workshop. Contact us for that option too. As a participant of EiT/L, you would get a reduced price on the "Learning Wild" course and/or the TS-EAM workshop.
Sign up!
Join us for an exciting 2022! You can now sign up to the full online EIT/L Level 1 – the Fundamentals – Online.
https://mimer-centre-school.teachable.com/p/equines-in-therapy-and-learning-programmes-level-1_fundamentals
And the full online EIT/L Level 2 - the Theory - Online
https://mimer-centre-school.teachable.com/p/equines-in-therapy-learning-level-2-the-theoretical-framework
Or you sign up for EiT/L Level 1-3 all at once and get a further discount (12%) and a secured spot on all 3 levels:
https://mimer-centre-school.teachable.com/p/equines-in-therapy-and-learning-programs-level-1-3-bundle-price
Level 3 will open online January 2023 and Level 4 - Train the Trainer in March 2023.
See you at MiMer School online!
The MiMer School Team!