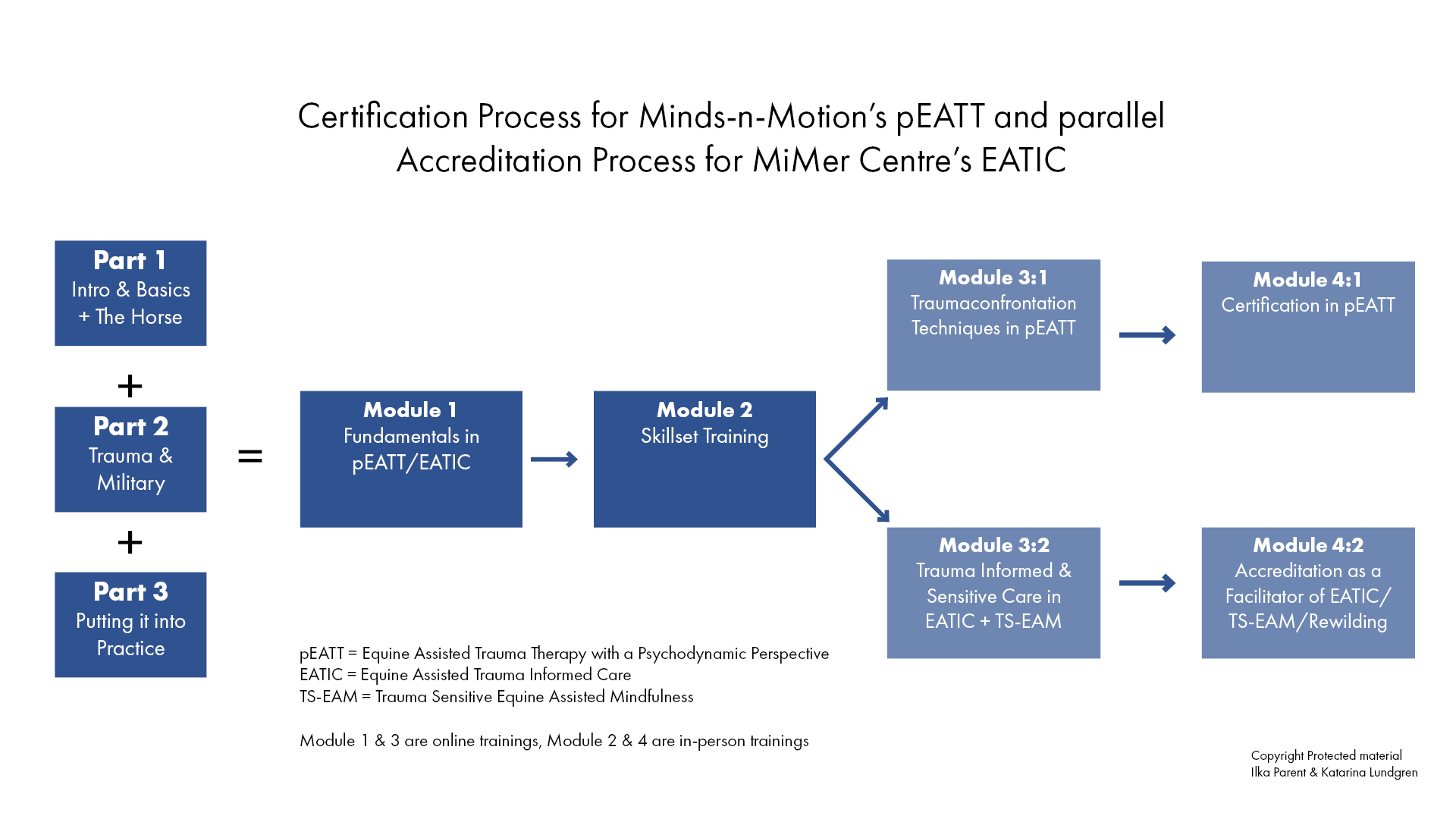 Module 1 has fully integrated EiT/L Level 1. pEATT Module 1 offers the fundamentals and basics of any trauma informed equine assisted interventions: the elements that are involved, the steps necessary to ensure facilitating sessions, the areas of responsibility of each team member. It is for anyone already working in or wanting to work in the equine assisted field, and who takes being trauma informed seriously. It is a fully online module and consists of 3 parts that you can buy one at a time -or purchase as a bundle (giving you 10% reduction).
Module 2 is a Practical – In-Person training. A 4-day skillset training, to practice all that has been learned in Module 1, expanding it by focusing on resource activation, resource strengthening skills and overall stabilization skills as well as looking at what one "brings to the session". But also on how to enhance your own observational skills. Since equine assisted interventions of any kind are experiential interventions, a practical part where learned material is tried out and experienced is necessary. Module 2 can be offered anywhere where there are at least 16 students who have taken Module 1 and someone interested in hosting it. Of course we also offer Module 2 at our own respective facilities.
After having completed Module 2 there are choices: those of you who are licensed clinicians in Traumatherapy and possess a valid EMDR certification or those of you who are Equine Professionals and wish to delve deeper into Traumatherapy can pursue a pEATT certification – the model that adheres to the clinical guidelines set forth and governed by licensing boards, the model that has been researched and proven to be effective in the work with people suffering from (complex) PTS(d). Module 3:1 dives further into trauma work and focuses on various trauma confrontation techniques (e.g. EMDR) while also looking at what is necessary for the Equine Profession to become an Equine Behavioral Specialist.
Or you can choose to take Module 3:2 – an accreditation path that is for everyone who wants to learn more about Equine Assisted Trauma Informed Care (EATIC) and how to facilitate it. It contains information about all kinds of trauma (also more severe trauma) and how one can facilitate stabilization (grounding) and resourcing in different ways (e.g. MiMer's own TS-EAM program – Trauma Sensitive Equine Assisted Mindfulness). It also teaches how to combine EATIC with other nature assisted, ways of working as well as rewilding principles and how you can add expressive arts and movement to your interventions. This is the path for those of you who wants to become TS-EAM facilitators and/or Rewilding facilitators.
Both Module 3's are online trainings. And Module 3:2 contain both EiT/L Level 2 and 3 + new material.
If you take Module 3:1 – you can then get on to the in-person Module 4:1 and get certified in working with pEATT.
If you take Module 3:2 – You can get on to do the in-person Module 4:2 and get accredited in working with EATIC, as a TS-EAM Facilitator and/or a Rewilding facilitator.
If you have any questions about what the certification process entails for becoming a certified pEATT provider or an accredited MiMer facilitator/trainer – reach out to This email address is being protected from spambots. You need JavaScript enabled to view it. or to me – This email address is being protected from spambots. You need JavaScript enabled to view it..