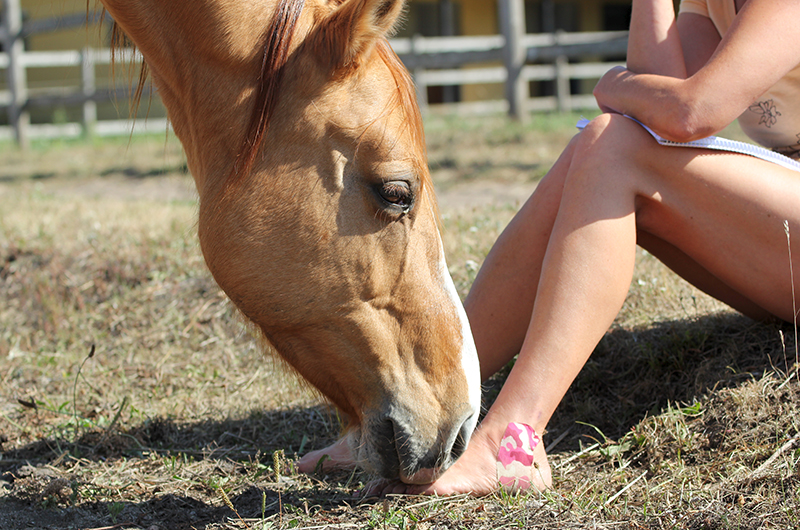 When horses "misbehave" in some way, we often draw hasty conclusion as to why they do that. We see intentions where there are none, we think their behaviors are directed towards us, we often assume they do things out of disrespect etc.
Most often horses do what they do because this is the only way they can communicate with us. Often, they tell us they do not understand what we ask of them, that they are scared, in pain, feel pressured etc.
By not listening to a horse, we often escalate his stress levels. The more we escalate them, the bigger behaviors a horse is going to show, until we trigger a larger flight, fight, freeze or shutdown reaction. If we do that often, a horse will start to have problems coming out of his stress. This will have physiological as well as psychological consequences for him. It will impact his welfare.
When we learn about behaviors as language, we also need to remember that all behaviors occur in a context. This is part of understanding what a horse is saying.
Often, his behavior is communication, at other times he is expressing himself.
Are you more curious about what we can tell you about horse behaviors as communication and expression? About how we can learn to manage a horse's stress levels better? How you can become better at understanding what the horse is saying? How we most effectively learn about horse behaviors?
Join us in an evening lecture on horse behavior as communication and expression – seen through a scientific lens – bringing up different tools you can use to get better at understanding what horses communicate and express.
Where? At Saxtorps Hästklinik, Björnahusvägen 6, 261 93 Saxtorp, Sweden (in the education room, second floor in the riding arena).
When? 8 October 18-21
By whom? The "Horse behaviors as communication and expression" evening lecture is given to you by MiMer Centre, in collaboration with Saxtorps Hästklinik.
The trainers from MiMer are Dr. Emily Kieson (PhD in Comparative Psychology), research director at MiMer and with more than 20 years' experience as a full-time horse trainer and riding instructor, and Katarina Lundgren, director of MiMer (MA student in Cognitive Science), with more than 15 years of experience of working with facilitating human growth together with horses, as well as advocating for equine welfare. Both of them have been working in the field of experiential learning assisted by horses for almost 10 years.
Price? 800 incl. taxes, "fika" is included in the price.
We have limited spaces (especially now due to the Corona-virus restrictions). Deadline for sign up is the 1 of October.
The course is given in English (but just ask if you do not understand, Katarina speaks Swedish!)
Sign up via Saxtorp's Horse Clinic's webshop: https://saxtorpshastklinik.se/sv/webshop/horse-behavior-as-communication-and-expression-an-evening-lectur.html