Equines in Therapy and Learning Programs - Level 2 - The Theory
The role of Motion, Emotion, Communication, and shared Neurobiology
In Level 2 of EiT/L we dive deeper into the mental/cognitive capacities of equines (foremost horses), the equine's perceptions and into the neurobiology of the equine central nervous system. We will also draw parallels between this knowledge and what we know about equine behaviors, in domestic horses and in wild/feral horses. To broaden the understanding of horses we will also study how equines communicate (intentionally or unintentionally), besides trough their overt behaviors. We will be doing comparisons with humans (and sometimes dogs and other animals) to see where we are similar, as being mammalian species, but also where we differ.
Level 2 contains the above theory, but we also continue to emphasize your own skills as observers of equine behaviors, and other means a horse uses to communicate. So there will again be practical work out in the fields, observing and interacting with equines, to connect what you learn, what we discuss, with what you do.

Level 2 builds on the observations and begins incorporating more observation and structured/semi-structured horse-human interactions so that participants view multiple interactions of each dyad and practice recording. Participants practice looking for patterns for two reasons;
Relaying observations back to the treatment team to assist in reaching the proposed goals for the client.
Looking at the horse behavior with a critical eye towards perspective and welfare.
The interaction and language that develops is a key factor in determining the effectiveness of the treatment and if it is in line with the goals. Knowing equine behavior and equine-human interactions is a critical component of looking at the interaction and knowing if it fits with therapeutic goals. We will discuss:
Overlaps and differences in human and horse ethology and how it applies to different EiT/L programs and models and practices/activities – specifically addressing the environment at the venue where the training is taking place and the effects of different facilities on horses and horse-human interactions.
EiT/L approaches to incorporating behavioral and emotional regulation (grounding/mindfulness).
Incorporating nature and the importance of nature/outdoors. Compare with indoor venues. Discuss options for working with horses and catering to the venue.
Emphasize the importance of knowing each horse individually. Each and horse and a human create a unique dyad and therefore a unique language that develops between them. The overlap in ethology and practical approach to using comparative physiology and comparative psychology to assist in the therapeutic process.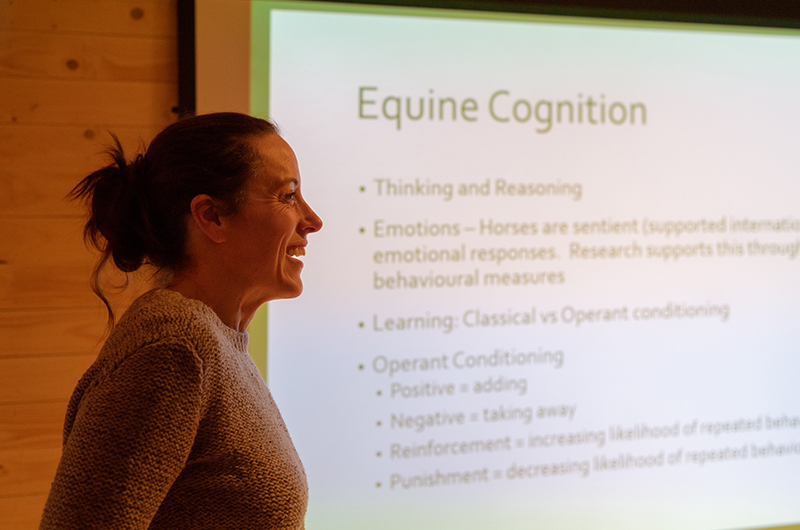 We will continue to apply observational skills learned in level 1:
Observe individual interactions and activities with horses over the course of the training.
Parallel these observations with client goals related to trauma, anxiety, and depression (additional diagnoses or criteria will be addressed if requested for the location and attendees).
Movement (Motion)
We will look closer at different aspects of movement, in horses, between horses and between humans and horses:
Dynamic vs. static movement
Proprioception & interoception
Movement and emotions

EMDR and role of rhythm in general therapy and EiT/L programs – rhythmic touch/movement as it applies to both mounted and unmounted work.

Intercorporeality

What is it? What does it matter in EiT/L?

Synchrony & Shared coordination

What can we learn from dance and other rhythmic movement practices?
Why does it matter in EiT/L?
Importance of movement in horse relationships and how it parallels with human relationships
Movement like water – both horses and humans – moving together, not leading or pushing

Embodied Attunement & Kinesthetic Empathy

Role in client-patient relationship

Vestibular system

What is the role of it and how is it connected to emotional wellbeing?
How can we benefit from the stimulation of it?

Discuss ridden/mounted work and movement

Integration of emotional and behavioral regulation
Emotions
Emotions are active regulators in behavior, movement, and intention and mediate social interactions. We will look at the role of emotions for both horse and human in the context of EiT/L based on client goals. We will examine:
How emotions underlie and guide all cognitive processes including perception, attention, memory, thoughts, and behavior.
The function of emotions and how they relate to self and the multiple roles and functions of a singular emotion.
Intersubjective regulation of movement within the context of a social group to identify the place and concept of community.
Intergenerational transfer of meaning in a culture to determine the importance of different knowledge and skills.
The neurobiology of emotions (will be covered more in-depth in the neurobiology section)
The importance of the social system on emotions for both horse and human

The role of fear of social exclusion
The ability to read others' emotions in a group and how this influences individual emotional responses (species-specific behavioral patterns)
Both humans and horses being mammals, it means we share the same neural structures in our Central Nervous Systems.
Communication
Equine behavior is communication. We will look at how horses communicate with each other and us humans and how the communication evolves:
Initiating bonding/attachment, creating a common ground. The role of different kinds of imitation, (mimicking/mirroring), emulation etc.
Touch and its role in equine-equine relationships and equine-human relationships
Maintaining bonding
The role of rhythmicality and sound in bonding/relating
The horse's ability to gaze following, joint attention, mutual attention/shared experiences
Social learning and its connection with bonding/attaching – how social beings learn and evolve.
Physiology and neurobiology – and structure of sessions
We will introduce how to structure an EiT/L session so it aligns with equine and human ethology, promoting welfare for both horse and human, and aligning activities with outcomes that promote welfare for all. (In-depth flow charts are developed in Level 3.) We will look closer at:
The role of arousal and eustress (comparative physiology and psychology) in EiT/L

How it plays out in relationships (build trust through consistency, and safe predictability prior to engaging in mutual eustress – exploration and curiosity) the role of play and how that is beneficial and effective. Discuss how current models use horses and the pros and cons of both approaches when dealing with different clients and client goals/needs.

The role of physiology – Movement in both horses and humans and the importance of movement in EiT/L (dopamine, endogenous opioids, appetitive and consummatory based in neurobiology and what that means to individuals with anxiety, depression, and/or trauma)

Importance of timing when incorporating an activity
Structuring that activity – choosing horses, equipment, and setting based on-site and resources.

Comparative physiology of humans and horses in the muscular-skeletal system, digestion, and behavior. Importance of movement for both horses and humans with regards to psychological health.
Neurobiology – A deeper understanding of the effects of short and long-term stress on memory, learning, development, attachment, and behavior in both horses and humans. Looking at the hippocampus, amygdala, and dendritic responses and adaptations and how that affects behavior and connections.
Compassion Fatigue – or Burn-out – Addressing it in humans and the potential effect of therapist compassion fatigue on horses. Do horses get compassion fatigue? Can they suffer from Burn-out? If therapists knowingly put themselves in a position to be "used" can we expect horses to do the same? If horses are not in the same position as therapists, we need to respect that they are not volunteering for this job and they, therefore, play a unique role that is not defined. The equine's role needs to be defined by the facility (we will practice and discuss this) to determine the best welfare practices and standards for interaction both in and out of sessions.
The information listed above is fundamental to level 2. Live trainings will use site resources and feedback from hosts and trainees to tailor the training and information to show the application of principles to individual and site-specific needs.
The days consist of a mix of theoretical seminars and discussions and practical exercises with horses and humans. The practical exercises will include how to enhance your observational skills and how you link what you see with what you know, how you stay aware of your own filters, and how you can use and formulate your observations into equine centered questions directed towards the client(s). As well as how your observational skills are what keeps the equine safe and provide him with a space to grow.
The training is adapted to the participants level of knowledge, the prerequisite being haven taken EiT/L Level 1. There will also be a list of suggested reading to do before coming.
This is not a model or step-by-step process, rather it is a way to integrate science and research into existing models or upon which to develop new approaches to equine-assisted therapy and learning programs. We believe in the application of science in all EiT/L programs and work hard to clarify uncertainties and misunderstandings in equine-human interactions and in the field of EiT programs.
The training is equally suitable and beneficial for equine specialists and therapists, you will just leave the training with different levels of deepened knowledge.
There are also the possibilities to do follow up trainings, we offer level 1-3 and a Train the Trainer module.
If you are interested in the training, a detailed program will be sent to you on request.
What is included in the training?
4 days of in-person training, including lectures, discussions and practical exercises with horses
access to our online resource library
access to MiMer's online network where you can connect with colleagues around the world
complimentary mentorship / online support after the training, on a consultant basis
Faculty:
Upcoming EiT/L Level 2 trainings:
2021:
WA, USA, April 15-18 - registration link
Finland, May 20-23 - registration link
The training will be held in English.
This training is based on the most recent research pertaining to horse-human interaction, equine cognition, equine welfare and several other fields that contributes to explain the dynamics between horses and humans, as well as knowledge about equines, equine welfare, and wellbeing, with focus on EiT/L programs.
If you are interested in signing up or have questions, please contact us at This email address is being protected from spambots. You need JavaScript enabled to view it.