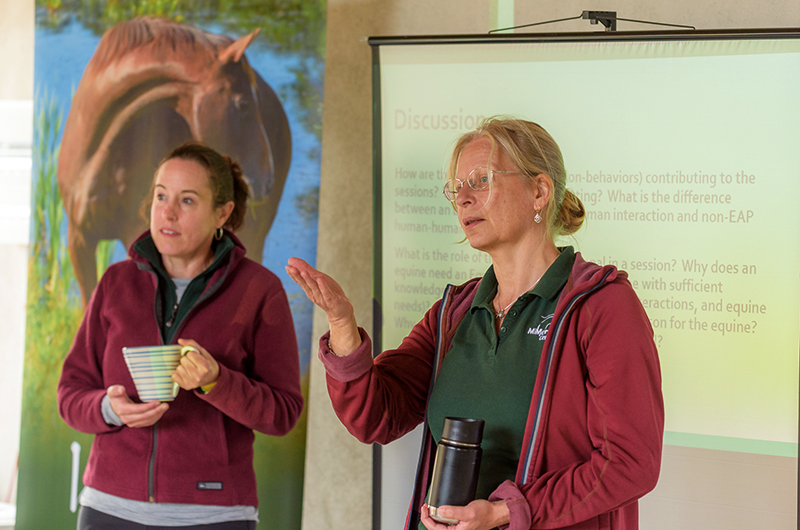 The Application of Science and Best Practice to Equine Assisted Interventions (EAI).
In Equines in Therapy and Learning Programs (EiT/L) Level 2 we take a closer look at the theoretical framework in Equine Assisted Interventions.
We dive into some of the theories and the latest science underlying the work we practically do in EAI, focusing on the aspects of Emotions and Motion, Attachment, Communication, Relationships, and our shared Neurobiology.
Diving deeper into the theories behind the mechanisms at work in EAI
Theories we explore and look at their value in EAI is attachment theory, the intersubjectivity theory, the polyvagal theory, emotion theory through the lenses of Panksepp and Feldman Barrett, different movement theories (embodiment, synchrony, mimicry etc) as well as complementing theories around communication (affiliative-antagonistic behavior), relationships, stress, trauma, cognition, and neurobiology in general.
The practical part of this training focuses on how we can use our understanding of theories practically. How we can find a theoretical base to stand on that works for us individual practitioners and/or in our teams and that can help us expand our practical work in EAI. We keep on practicing observations (with self-awareness), teamwork, neutral language, structuring of sessions and evaluating sessions – and of course – at all times – maintaining equine welfare.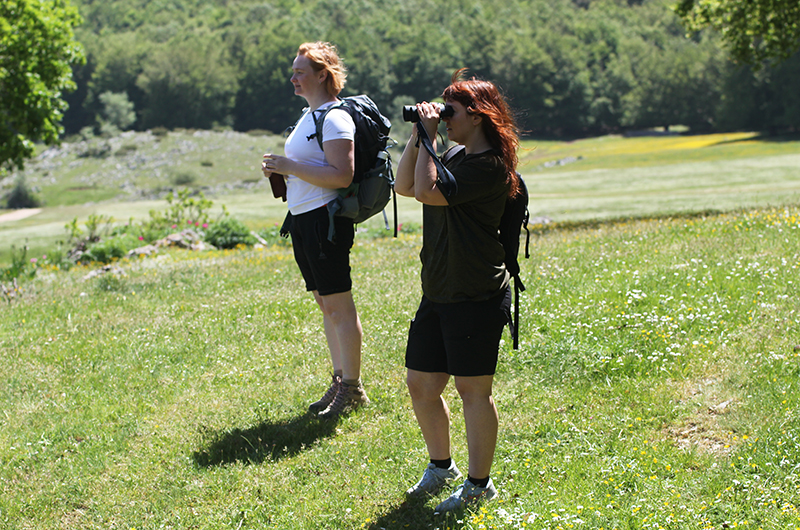 Theories are "just" models of reality; they are not reality. And sometimes they contradict each other, and sometimes they just get obsolete and new and more updated theories are formed. How can we as providers and practitioners keep up with science? How can we asses what theories will be helpful to us and support us in our work?
Level 2 of EiT/L presents some of the theories in psychology, ethology and cognitive science that supports our work in EAI. But they are not to any use unless you can critically think around them, assess their value to you and your work, and implement them in a way that works for you and your clients.
Welcome to a deep dive into the theoretical framework behind Equine Assisted Interventions!
The course includes lectures by Emily Kieson PhD, MS, PgDip, ESMHL (Research Director at MiMer Centre) Katarina Lundgren (Director of MiMer Centre), and movement coach Sonja Lairila, (former board member of MiMer Centre).
Sign up here:
Model-Independent and Science-Based
We are model-independent and pride ourselves on teaching tools, not rules. The course is developed by practitioners with experience of multiple equine assisted therapy and learning programs.
We focus on skill sets, knowledge, critical thinking, networking, self-awareness and science to help you develop the EAT/L program that fits what you want to achieve with your services, not a model that forces you to conform to a predetermined set of rules.
This online education covers the theoretical part of MiMer's Level 2 training and includes assignments for practicing critical skill sets. You can choose if you want to do the practical part of the training online or in person (the last option comes with an added cost).
Read more about what content is covered in the Level 2 training here:
Faculty:
If you have any questions about our Equines in Therapy and Learning Programs education, please contact us at This email address is being protected from spambots. You need JavaScript enabled to view it.