Equines in Therapy and Learning Programs - Module-Independent Equine Assisted Trauma Infomred Care
Our Education, Equines in Therapy and Learning Programs (EIT/L MI-EATIC) consists of 4 separate levels, building on each other:
Level 1 – The Fundamentals
Level 2 – Theory
Level 3 – Practice
Level 1-3 can be bought in a bundle.
Level 4 which offers different branches:
Level 4:1 – our Train the Trainer module (give our trainings yourself)
Level 4:2 – our TS-EAM Facilitator/Facilitator of Equine Assisted Trauma Informed Care (EATIC).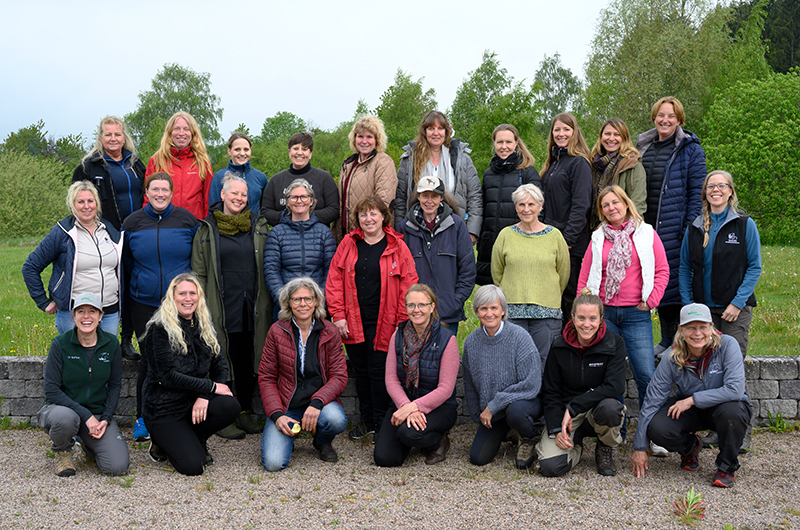 Prices
During 2022 we have updated a lot of the material and made some additional changes. During 2023 we will continue to update our material and therefor we will not raise the prices on them until they are fully updated. This is the release schedule of the different levels – with their attached current and future prices.
In January 2023 we release the updated Level 3 – with a new price, 800 E (old price 580 E, valid until January 14)
In April 2023 we release the updated Level 4 – Train the Trainer – with a new price, 860
In July 2023 we release the fully updated Level 1 – with a new price, 680 E (old price of 460 is valid until June 31)
In October 2023 we release the fully updated Level 2 – with a new price, 740 E, (old price of 520 E is valid until September 30).
In the second half of 2023 we will also release our Level 4:2 – TS-EAM facilitator, 800 E


Bundle Prices
Bundle price Level 1-3 = 1370 E (that is 12% off from the whole price of 1560 E) – Is valid until January 14.
New bundle price from January 15 is 1566 E (still 12% off)
New bundle price from July 15 is 1760 E (still 12% off)
New bundle price from October 15 is 1950 E (still 12% off)
The reason for this somewhat complicated price ladder is that we step by step, level by level update all our levels. It means they will be even richer, deeper and more thoroughly structured and thought through. And the slowly implementing of new prices reflect those changes.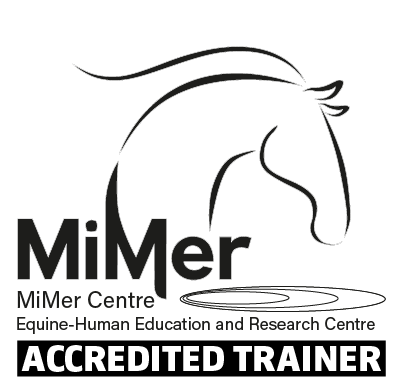 How long is the training?
We are frequently asked how long time one have to put into these trainings. The EiT/L Level 1-3 you would optimally go through in between 10-15 weeks. If you can do it full time, you could do it in 5-7 weeks, if you have a lot of other obligations, you can take up to a full year to complete it. The pace is almost fully in your control.
A One-Year Extensive Education and Accreditation
Meaning, you can move through level 1, 2, 3 and 4 in one year (what we think is an ideal time, making plenty of space for reflections, practice, application of new ideas, tending to your business, your team (horses and humans), your own growth, and eventually (and perhaps, after consideration, and a bit later on) make yourself ready to also teach others about this.
If you chose to move on to Level 4 and become a MiMer trainer or a MiMer facilitator, we will send you a MiMer logo with the text "Accredited MiMer Trainer".
You can of course choose to become an educator/trainer that follows our courses and use our course material or put together your own training and material.
And perhaps you do not want to teach our full curriculum, but e.g. the equine welfare part, but not the rest? This is all really up to you. If you go through all levels (and fulfill the Practicum requirement, se below), you get the accredited trainer logo.
You will also get a Certificate of Completion after each level, and you can of course always of course choose yourself how many levels you want to take. Signing up to Level 1 comes with no obligations to continue to Level 2, etc.
Practicum
A new addition in 2023 is that, while you still can take all the first 3 levels online, and get your Certificate of Completion for them, you will not be able to move on to our level 4 until you have completed a 8-day practicum. This Practicum can consist of our TS-EAM or any or our Rewilding-courses, and also of any of our accredited trainer's trainings. It must also contain a 4-day Skills Practice. The Practicum comes with it is own Certificate of Completion.
We have added this Practicum requirement after a lot of thinking. It is a way to guarantee that those who will choose to become MiMer trainers or MiMer facilitators, also can showthat they have the practical skills that we think are necessary for this. This was not a problem Pre-Covid, as back then all our trainings were in person trainings. But during Covid we moved most of our education online. Now it is time to find a balance between online education and in person training requirements. All to offer high quality trainings.
Affiliation
Having completed any of our Level 4 trainings – (including the exam) – you will then be able to work as a MiMer Centre Affiliate.
Sign up!
Level 1 – The Fundamentals:
https://mimer-centre-school.teachable.com/p/equines-in-therapy-and-learning-programmes-level-1_fundamentals
Level 2 - the Theory (Theoretical Framework)
https://mimer-centre-school.teachable.com/p/equines-in-therapy-learning-level-2-the-theoretical-framework
Bundle Level 1-3
https://mimer-centre-school.teachable.com/p/equines-in-therapy-and-learning-programs-level-1-3-bundle-price
See you at MiMer School online!
The MiMer School Team!