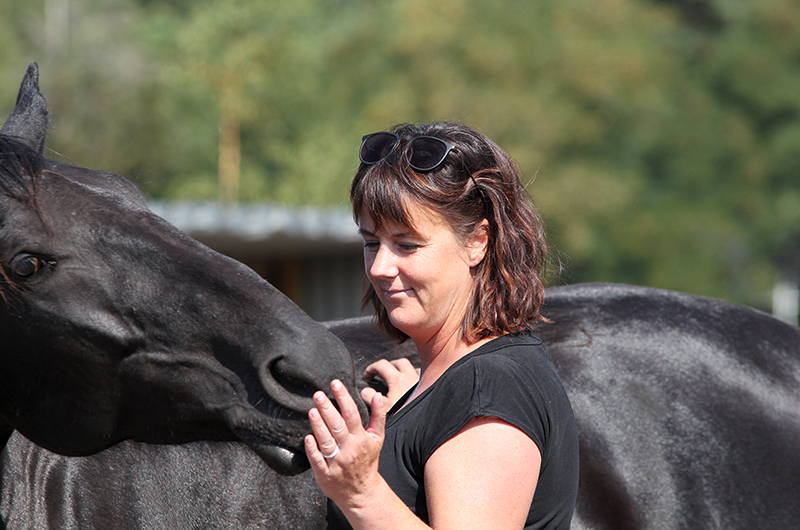 How do horses and humans bond? Build relationships? Even friendships? What does it take for two so different species developing trusting relationships with each other? A relationship that can be the foundation for all things you want to do – and be together, with your horse?
If I were to answer those questions in a super short way – I would say, see your horse, know yourself and have the courage to explore this relationship with a curious and open mind, respect, time, and patience.
But how do you do that?
The somewhat longer answer to that is:
Learn to observe your horse
Learn about horse behaviors as language and the importance of context
Learn about what a horse needs as a species, to thrive, as a bio-psycho-social-emotional-cognitive being – and do your best to provide your horse with that (and how you can do that).
Learn about how horses' bond and maintain bonding with each other
Learn about how relationships in general are created and maintained
Educate yourself on stress and trauma reactions, in horses – and in humans
SPEND A LOT OF TIME WITH YOUR HORSE, ALSO WITHOUT ANY SPECIAL AGENDA
Get to know the horse you have in front of you – as a subject, an individual, a being with his own personality, way of seeing the world, individual needs, background.
Get to know yourself and all your lenses (that you see the world, including your horse, through)
There are so many courses and clinics on horses out there – on how to do this, how to do that – with your horse. There are also courses on how to build a relationship with your horse.
What differs this 1-day introductory course to the topic of befriending your horse from all other courses?
It is science based (we engage in scientific research, our own, and partner up with other researchers around the globe
It is based on an understanding that horses and humans share mammalian similarities yet are two different species (so knowing about all species-specific differences between humans and horses is important) – and recognizes the importance of subjectivity (individuality).
It looks at the relationship between horses and humans form a plethora of academic disciplines, theories, hypothesizes, best practice, own and others' experiences, domestication, and the shared evolution of this relationships.
It looks at all the pieces in this equation, the horse, the human – what defines a good relationship – on all the 3 levels of mammalian similarities, species specific differences and subjectivity (for your horse and you!)
Despite that it is built on science – it emphasizes that the doing part – is the most important part. You cannot learn about horses solely through what other people teach you… you need to get to know you – and you need to get out to the horse(s) in your life – and BE with them. So you can SEE them, and not only see your own projections of who you want – or believe – your horse to be.
What will you NOT get by attending this course?
A step by step instruction to follow (since all humans and all horses are individuals)
All the answers that you want (nobody has them, we will share what we know AND starting to explore and find out things for yourself will be fun!)
Educators who tell you everything you already know is wrong – it isn't – the world is full of different perspectives (but we do engage in de-bunking some really persistent myths about horses and horse-human interactions 😊)
What you WILL get – is an invitation to follow us as far as you want – on this so interesting and intriguing journey towards better understanding horses, humans – and the interactions between us! Starting out with this introductory course day – Befriend Your Horse! (and Yourself 😉 – since every true learning is personal development…), by diving into science and best practice on equines and humans. The day also includes discussions about understanding how your existing training and riding can fit into these relationship concepts.
We welcome YOU to this one-day theoretical course about the science and best practice behind human-horse friendship and bonding, based on our (MiMer's) educational concept "Equines as Companions".
Where? At Saxtorps Hästklinik, Björnahusvägen 6, 261 93 Saxtorp, Sweden (in the education room, second floor in the riding arena).
When? 10 October 9-16.30
By whom? The "Befriend Your Horse" course is given to you by MiMer Centre, in collaboration with Saxtorps Hästklinik.
The trainers from MiMer are Dr. Emily Kieson (PhD in Comparative Psychology), research director at MiMer and with more than 20 years' experience as a full-time horse trainer and riding instructor, and Katarina Lundgren, director of MiMer (MA student in Cognitive Science), with more than 15 years of experience of working with facilitating human growth together with horses, as well as advocating for equine welfare. Both of them have been working in the field of experiential learning assisted by horses for almost 10 years.
Price? 1500 incl. taxes, lunch and "fika" is included in the price.
We have limited spaces (especially now due to the Corona-virus restrictions). Deadline for sign up is the 1 of October.
The course is given in English (but just ask if you do not understand, Katarina speaks Swedish!)
Sign up via Saxtorp's Horse Clinic's webshop: https://saxtorpshastklinik.se/sv/webshop/vanskap-med-hastar.htm