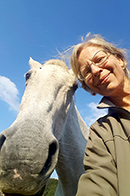 Katarina Felicia Lundgren
Katarina's passions are understanding and working with equines and humans in therapy, so it can benefit both clients and horses.
She is involved in research and educational projects to spread knowledge, awareness of ethics, welfare and best practices when we work with Equines in Therapy. The research she is involved in focuses on equine-equine and equine-human interaction. She is currently writing her master's thesis on equine-human interaction in Equine Assisted Psychotherapy.
She is an Equine Professional who works in teams and offers experiential learning and therapy with horses. She travels the world to educate about the teamwork, the equine's role and welfare needs and the Equine Professional's role, need of knowledge, awareness and responsibility in Equine Assisted Activities and Therapies.
She is a co-founder and chair of the board in MiMer, a small independent education, research and treatment center.