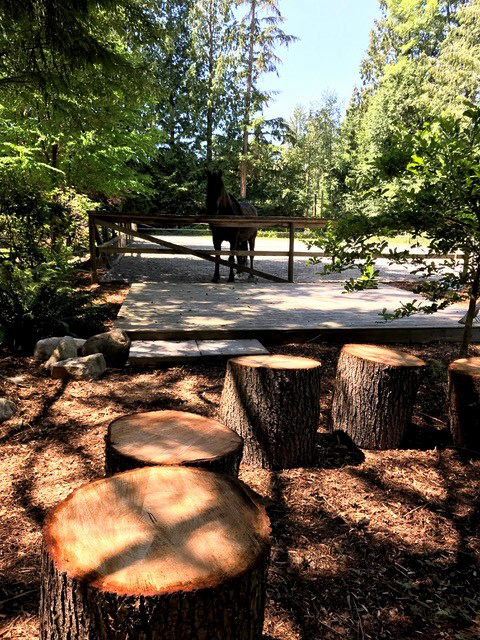 In Canada we currently offer trainings and other equine related events at at Ears Forward Coaching - Equine Guided Development - Emotional Agility Programming, in Maple Ridge, BC, Canada.
Ears Forward Coaching is situated in Maple Ridge, about an hour from Vancouver, BC (the closest airports are Vancouver International and Abbotsford International). Our host is the owner of Ears Foward Coaching, Sharolyn Wandzura. You find more info about Ears Forward Coaching here: earsforward.com
At Ears Forward Coaching Sharolyn has a quiet 2.5 acres with a small herd of 2 horses (Mannah a bravado Canadian gelding and a Pony, Sweet Georgia Brown (born deaf). They both have in/out stalls leading to paddocks. Sharolyn also offers the possibility to go and observe bigger horse herds nearby, during the EiT/L training.
The farm has great Teachings Spaces with the herd and a studio/classroom space where for groups.
Accommodations: There are BnB's (or hotels) in the area, contact Sharolyn for more info.
If you have questions about our trainings in Canada or if you have more general questions on our presence in Canada, please contact either Sharolyn (who is our local host at the above events, but also is our Canadian colleague) at This email address is being protected from spambots. You need JavaScript enabled to view it. or either one of us at MiMer at This email address is being protected from spambots. You need JavaScript enabled to view it..