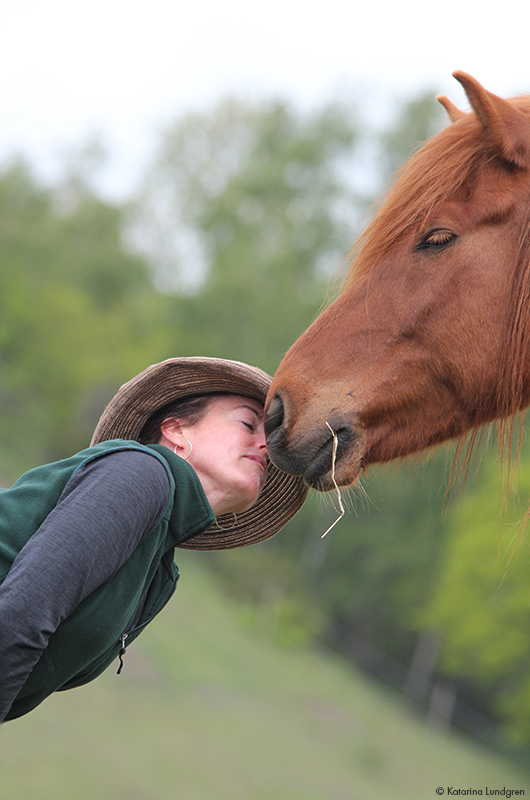 Emily Kieson PhD, M.S., PgDip, ESMHL, (Oklahoma, USA)
Emily is a member of the Board in MiMer and serves as our secretary. She is the Director or our research department, which she leads together with Francesca Gatti. Emily is also our contact person and program director in US (together with Kate Causbie) and, together with Katarina Lundgren, she is also responsible for creating and developing our educational material.
Emily has a PhD in Comparative Psychology from Oklahoma State University, a MS in Psychology from Oklahoma State University, a B.S. in Ecology and Evolution from Rutgers University and a Post Graduate Diploma in Equine Science from the University of Edinburgh. She teaches and develops courses at Post University and Unity College and serves on the Equine Welfare Committee of the Professional Association of Therapeutic Horsemanship. Her passion is researching equine behavioral psychology in the context of horse-human interactions with specific focuses on affiliative strategies, social bonding, and positive welfare.
Emily has spent almost 20 years as a multi-disciplinary trainer and instructor in both Texas and Oklahoma and became interested in equine-assisted activities and therapies about ten years ago. She has been trained and certified in a half-dozen models of EAAT and continues to learn about the field. It was during these trainings that she discovered the lack of research in horse-human interactions and became interested (honestly, obsessed) with developing the science in this field. Specifically, Emily is interested in understanding how horses interact with humans in ways that mimic social bonding to help develop better models of equine-assisted psychotherapy that use equine interactions to parallel interpersonal relationships. She also has ambitions of using this to help individuals create better relationships with their horses at home and create more centralized educational resources for horse owners and equine practitioners.
You find Emily at This email address is being protected from spambots. You need JavaScript enabled to view it.