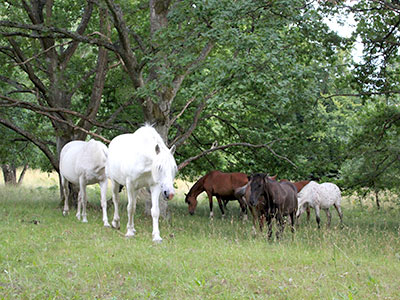 MiMer's Trust is a trust set up to help fund much-needed research on, foremost equines, human-equine interactions, and Equine Assisted Interventions.
Purpose of the trust
The trust shall work towards spreading knowledge and support research and education within the following areas: animals, animal-human interaction, animal-assisted activities for humans, with a special focus on equines and therapeutic interventions for humans.
To accomplish this mission
The trust shall distribute monetary funds to research, education or knowledge spreading educational projects which support the trust's purpose and mission.
Monetary funds are gathered and paid in through voluntary work, donations and grants.
Who can apply?
Everybody can apply for the trust's funds to support their research, education or knowledge spreading educational projects, there will be no discrimination based on age, gender or race.
Applicants need to agree to be working to support the trust's purpose and mission and apply for monetary means per the trust's instructions. The board of the trust will decide to which projects monetary means will be distributed to based on the application.
Once a year, during autumn and winter, MiMer's Trust is accepting applications for monetary funds from anyone how strives to enhance the understanding of equines, human-equine interaction and equine assisted activities.
Autumn 2018 – status update
MiMer's trust was set up in April 2017. MiMer has co-organized, together with Minds-n-Motion in Germany, the international symposium "A Horse is a Horse, of Course", held in Wartenberg-Rohrbach, Germany, in July 2017. The symposium was a success and MiMer will continue to co-organize the symposium. In 2018 MiMer hosted the symposium in Sweden, the 23-24 of August. Next year, the symposium will be 25-26.4.2019 in Scranton, Pennsylvania, USA. See more info about this year's and next year's symposium on the Minds-n-Motion symposium's website.
Also, MiMer has put together a 2-volume compendium with Minds-n-Motion, during autumn/winter 2017 which contains the presentations from the symposium, as well as contributed articles from practitioners and researchers from around the globe, in total 24 authors and 28 articles. The compendium from 2018's symposium is a single-volume edition that contains 15 articles from different contributors. The compendiums have the same name as the symposium, "A horse is a Horse, of Course", and all volumes are available for purchase at Amazon.
All income from selling the compendiums goes into MiMer's trust and will be distributed to research projects.
The board of MiMer has decided to not distribute any funds this winter, since we together with an international research group, are looking at putting together a larger scale research project, looking into the results of Equine Assisted Therapy for both humans and equines.
To participate in this research project, it is crucial to follow the research design, so we together collect data that can be compared between research groups and countries/areas etc.
The research design for this project will take time to develop and news about the development will be presented on this site.
If you have any questions about applying for funds, contact Katarina Lundgren, This email address is being protected from spambots. You need JavaScript enabled to view it., +46 46 532 43, +46 768 95 98 68.
MiMer Centre
Hällestad 311
247 95 Torna Hällestad
Sweden