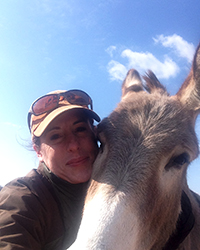 Emily Kieson M.S., PgDip, ESMHL, PhD student (Oklahoma, USA)
Emily has a B.S. in Ecology and Evolution from Rutgers University, a M.S. in Psychology from Oklahoma State University, a PostGraduate Diploma in Equine Science from the University of Edinburgh, and is working on a PhD in Comparative Psychology at Oklahoma State University. Her passion is researching equine behavioral psychology in the context of the horse-human dyad with specific application to equine-assisted therapies.
Emily has spent almost 20 years as a multi-disciplinary trainer and instructor in both Texas and Oklahoma and became interested in equine-assisted activities and therapies about ten years ago. She has been trained in EAGALA, Natural Lifemanship, and the Professional Association of Therapeutic Horsemanship (PATH) in which she is certified as an Equine Specialist in Mental Health and Learning. It was during these trainings that she discovered the lack of research in horse-human interactions and became interested (honestly, obsessed) with developing the science in this field. Specifically, Emily is interested in understanding how horses interact with humans in ways that mimic social bonding to help develop better models of equine-assisted psychotherapy that use equine interactions to parallel interpersonal relationships. She also has ambitions of using this to help individuals create better relationships with their horses at home and create more centralized educational resources for horse owners and equine practitioners.
In addition to working on her doctorate at OSU, Emily is a therapeutic riding instructor at a PATH facility in Stillwater and collaborates with various equine therapy facilities in Oklahoma for both research and therapy for all sectors of society.